Press Release - 2023 Giving Blitz
For Immediate Release
August 22, 2023
Hoosier Ticket Project to Host Second Annual Giving Blitz Wednesday, Aug. 23
The growing nonprofit is raising $15,000 to jumpstart this season's efforts to send IU fans in need to games for free.

BLOOMINGTON, Ind. –
The Hoosier Ticket Project will host its second annual Giving Blitz Wednesday, Aug. 23. Supporters can donate to this all-day virtual fundraiser at
https://www.hoosierticketproject.org/giving-blitz/
.
"With a new athletic season comes the opportunity to send even more Hoosier fans to games," Josh Bruick, CEO of the Hoosier Ticket Project said. "We are thrilled to build on a successful 2022-23 season and to create even more memories for IU fans who can't afford to be in the building."

Since its launch as a 501(c)(3) nonprofit organization in January 2022, the Hoosier Ticket Project has raised more than $100,000 in tickets and monetary donations to send more than 2,000 fans to Indiana University basketball games. Funds raised from the Giving Blitz will go directly to ticket purchases as well as special events, such as our annual football event Weekend at the Rock and basketball event Ball in the Hall.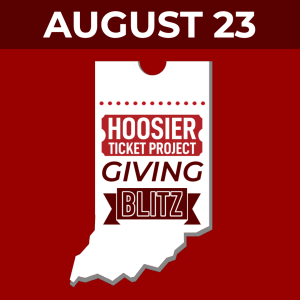 "Watching fans who may have never been to Assembly Hall or Memorial Stadium experience gameday is such an incredible feeling," Amanda Pavelka, Director of Engagement, said. "The Hoosier Ticket Project works hard to make sure our fans have an amazing experience and couldn't do it without the support of our donors."

This year's Giving Blitz has been jumpstarted by $1,000 Oaken Bucket level sponsors,
Farrall Wealth
,
Jackson Hewitt Tax Service
, and
Kimmel Financial Services
.
Follow
@HoosierProject
on Twitter (X), Instagram and Facebook for all Giving Blitz updates, including special shoutouts from players. To learn more about our mission, visit our website at
https://www.hoosierticketproject.org/about-us/
.
If you are interested in supporting Hoosier Ticket Project as a corporate sponsor, please contact us at
info@hoosierticketproject.org
.
Media inquiries: Please contact Josh Bruick at media@hoosierticketproject.org
Logos and style guide: Click here for logos and click here for the style guide
--30--