Giving Blitz Corporate Partner Donation

Join us for the 2nd annual Giving Blitz
Wednesday, Aug. 23
Through the generosity of fans, alumni, and partners such as you, the Hoosier Ticket Project provides tickets for IU athletic events to families who otherwise could not afford to attend. As we prepare for the 2023-24 season, we are looking for businesses and organizations to partner with us for the 2nd annual Giving Blitz, a day of giving to help us send even more families to Memorial Stadium and Assembly Hall.
Last year, our generous corporate partners -- Farrall Wealth, Homefield Apparel, IU Credit Union, Jackson Hewitt Tax Service, and F.C. Tucker/Kyle Taber Realtor -- helped us reach our goal of raising $10,000 in 24 hours.
Building on that success, we have increased the goal to $15,000 for 2023, all of which will go toward giving deserving fans the opportunity to root for the Hoosiers in person.
This year, we have four designated giving levels for corporate partners, three of which include promotional opportunities: Crimson ($250), Cream ($500), and Old Oaken Bucket ($1,000). However, your company can make a gift of any amount to help us reach our goal.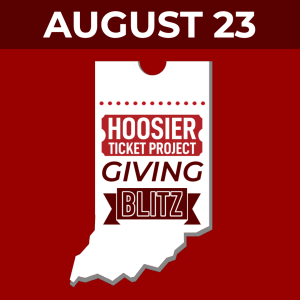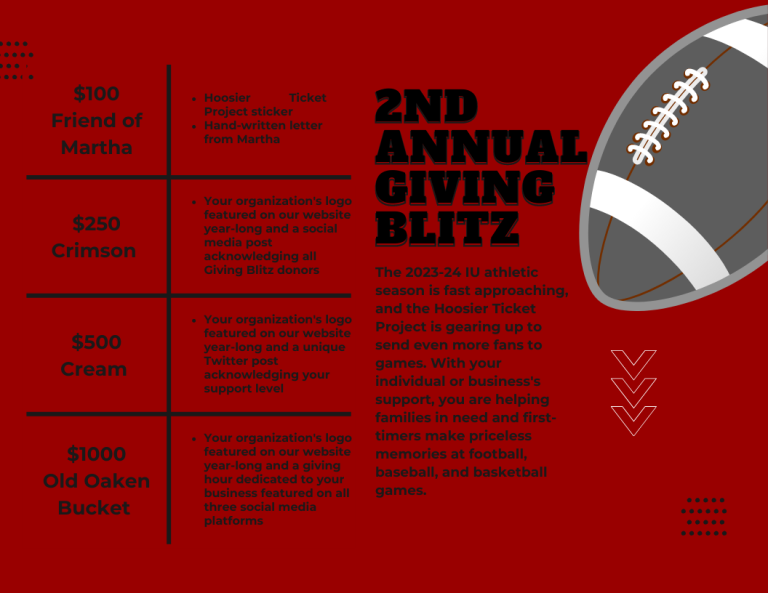 After making a donation below, you'll be redirected to this form to provide your business's social media links and logo.